ATCC has been the authority on cell and microbial banking for nearly 100 years. We have the facilities and the expertise to expand cell lines to create master and working cell banks for your assay needs. The cell lines can be supplied by you, or from the ATCC catalog, or from primary cells that are sourced and derived to your specifications. Accordingly, we can support any cell and tissue banking need, including stem cell banking. We will work with you at all stages of the cell bank development process from the initiation of your project to the large-scale production of your cells and microbes.
Accessioning
Accessioning is a critical step in any cell bank development. The cell bank can only be as good as the cells from which it was developed, especially for primary cell and stem cell storage banks. ATCC has a robust process, protocols, and a team of scientists in place for accessioning the right type of materials. Leading pharmaceutical and diagnostics companies have been using our services for decades.
Cell Bank Starting Material (Choice of 3 Different Sources):
1. You – starting material provided by the client
2. ATCC – the starting material accessed from our collection center
3. Outside vendors – the material procured from outside vendors by you or by ATCC
ATCC Accessioning Advantage:
Availability of starting material – We are one of the largest collection centers for microbes and cells in the world.
ATCC Collection Center Contains:
• Bacteria (18,000 strains in over 750 genera, 3,600 type cultures of validly described species, and nearly 500 bacteriophages)
• Viruses (over 2,000)
• Fungi and yeast (over 32,000 yeast genetic strains)
• Cell Lines (3,600 cell lines from over 150 different species)
• Vast number of hybridomas and human primary cells
Cell banking services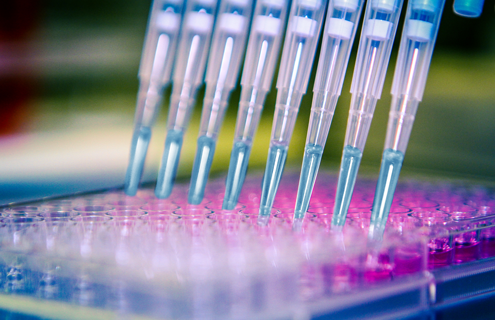 Master Cell Bank Manufacturing
Master cell Bank (MCB) development is a critical process in biological materials production. Since the quality of your final product is dependent on the quality of the cells used for its manufacturing, great care should be taken while developing master cell banks, including stem cell storage banks.
Learn more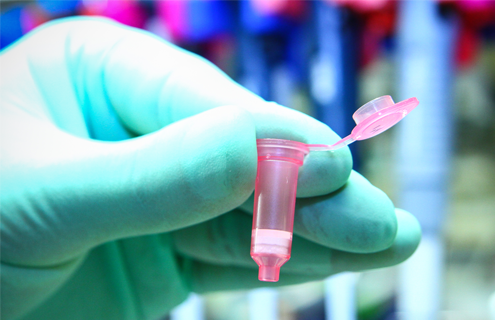 Working Cell Bank Manufacturing
Working cell banks (WCBs) are prepared from master cell banks (MCBs) under defined cell culture conditions. Quality control tests, via DNA profiling techniques, are performed to confirm that the MCB and the WCB are genetically identical, as well as to ensure the WCB is free of contaminants.
Get details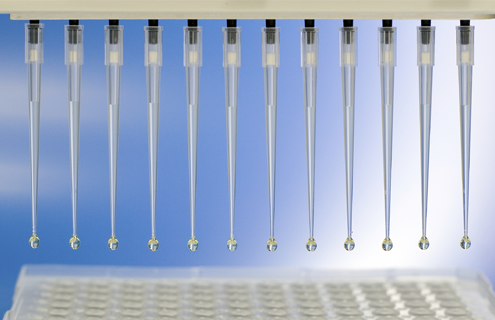 Custom Cell Authentication Services
ATCC provides a range of authentication testing services designed to ensure consistency and reliability of your research data. Common tests include viability, sterility, mycoplasma testing, molecular assays, and more. If your cell bank requires unique assays/methods, we can develop those methods for you.
Learn more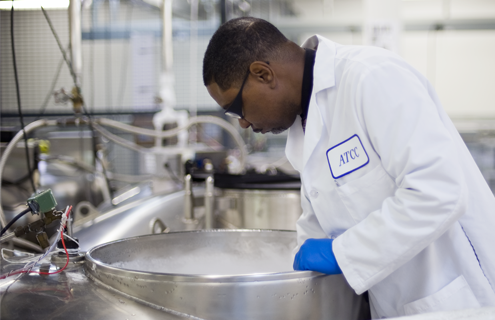 Biorepository Services
ATCC provides researchers with cGMP-compliant biorepository facilities and deposit services that enable the secure and reliable storage and management of your precious biological materials.
Learn more
Custom Services Request
Contact us using the form below for more information on our services, or to let us know that you are ready to start your project.

Our laboratories are able to provide you with customized options grounded in decades of industry knowledge, making us your preferred strategic partner. Our team works with you through all stages of your custom project process, from the initial inquiry, design and initiation of your project, to the production, characterization, packaging, storage and distribution of your biological materials. This allows you to focus on your core competencies while we focus on what we do best, producing, managing and delivering the highest quality biological materials, globally.
Thank you for your inquiry!