Leading ATCC human resources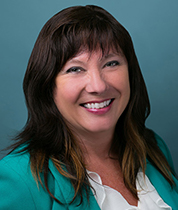 Teri Sellars, SPHR, SHRM-SCP
Vice President, Human Resources, and Chief People Officer
"I feel extremely fortunate to be working for an organization that plays such a critical role in global health, especially at this incredible time in history. Helping ATCC collaborate with its employees to make a meaningful difference in science and the world—while also seeing to it that each colleague thrives with a sense of pride, purpose, and professional development—is enormously exciting and gratifying work. I'm grateful to be part of it."
Role at ATCC
Teri serves the crucial role of managing human resources and skills at ATCC—ensuring that the organization can meet the needs of its customers and continue to lead in the advancement of credible science. Responsible for ATCC's human capital strategy, Teri directs all the people functions of the organization—including talent acquisition, talent data management, development, engagement, management, the total rewards programs, human resource regulatory compliance, and leadership development.
Experience
Teri has more than 20 years of experience in transforming the HR function—from integrations, to mergers and acquisitions, to standing up HR departments. She joined ATCC from ANSER, a nonprofit corporation dedicated to public service in the fields of national and homeland security and public safety. Prior, she served in several HR leadership and business-partner roles for small companies and divisions of larger organizations, including Freddie Mac, WFI, WCI Communities, and Convergys Corporation.
Teri received her bachelor's in French business studies from the University of Illinois at Chicago and completed a year of study in France at the University of Paris - La Sorbonne. She also holds two certifications: Senior Professional in Human Resources and Senior Certified Professional. She has served on the board of the Dulles chapter of SHRM, the Society for Human Resource Management.