Use of Recombinant Bacteria with Unique Tags as Spike-in Controls for the Quantification of Microbiome Content
Poster
Lake Arrowhead Microbial Genomics (LAMG) 2022
Lake Arrowhead, California, United States
September 12, 2022
Abstract
Advanced sequencing and bioinformatics technologies have revolutionized microbiome research in remarkable ways, opening up applications in diagnostics, therapeutics, and environmental sciences. Despite the promise of these technologies, the analysis of metagenomic data remains challenging due to the technical biases introduced throughout the metagenomics workflow—from sample preparation to bioinformatic analysis. Further, the natural complexity of microbial communities themselves has challenged microbiome researchers in their ability to make meaningful, quantifiable, reproducible, and comparable measurements across different laboratories. To help promote assay standardization and validation, ATCC has developed innovative spike-in standards for microbiome research. These controls are prepared as whole cell or nucleic acid mixtures comprising three genetically engineered bacterial strains (derived from Escherichia coli, Staphylococcus aureus, and Clostridium perfringens), each containing a unique synthetic DNA tag that can be detected and quantified in routine 16S rRNA gene amplicon and shotgun sequencing assays. To demonstrate the utility of these spike-in controls in microbiome research, we conducted studies where we mixed them with whole-cell or gDNA mock communities containing different bacterial strains at various ratios. The resulting data showed that the unique tags of all three bacteria were identifiable and quantifiable by shotgun and 16S rRNA amplicon sequencing. These proof-of-concept experiments support the utility of using spike-in controls with a unique 16S rRNA tag to monitor the full process from DNA extraction to data analysis of a microbiome workflow for both 16S rRNA and shotgun metagenomics assays.
Download the poster to explore the development and application of spike-in standards in microbiome research
Download
Watch the poster presentation
Presenter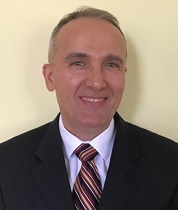 Leka Papazisi, DVM, PhD
Principal Scientist, Microbiology R&D, Product Life Cycle, ATCC
Dr. Papazisi joined ATCC in 2019. His main responsibility is product development, from asset inception through lifecycle management. While at ATCC, Dr. Papazisi led the Microbiology R&D team in developing several new products, including a proprietary nucleic acid storage buffer formulation and various diagnostics control materials. In addition to technical leadership, his responsibilities include talent management, new product innovation, and management of internal and external cross-functional activities. Before joining ATCC, Dr. Papazisi worked for OpGen (2018-2019), Canon U.S. Life Sciences (2011-2018), and J. Craig Venter Institute (2003-2011). At OpGen, he directed the implementation of an antimicrobial-resistance surveillance system for the state of New York. While at Canon US Life Sciences, his main responsibility was the development of PCR-based assays and assay controls for detecting human inherited diseases and infectious agents—launching with his team ca. 700 products. At the JCVI, Dr. Papazisi led a variety of comparative genomic projects of several biothreat agents. During his academic career at the U. of Connecticut and Vet Med U. of Vienna, Dr. Papazisi studied genomics, virulence factors, and vaccine design for mycoplasmas as well as molecular profiling of Salmonella.