CRISPR/Cas9-engineered 3-D Tissue Culture Models of Drug-resistant Melanoma
September 27, 2018, at 12:00 PM ET
Abstract
CRISPR/Cas9 genome-editing technology is a powerful new tool for developing cell-based models with disease-relevant mutations. In this presentation, we describe how this advanced technology was used to introduce specific point mutation that confers drug resistance into the A375 melanoma line to create the MEK1 Q56P Mutant-A375 Isogenic Cell Line. The new isogenic cell line is resistant to both MEK and BRAF inhibitors and, like the current isogenic KRAS and NRAS Mutant-A375 Cell Lines, sensitive to combination therapies targeting both upstream and downstream elements of the Ras/Raf-MAPK signaling pathway, making it an ideal model for screening and evaluating novel therapeutics and combination treatments targeting multidrug-resistant melanomas.
Key Points
CRISPR/Cas9 genome engineering was used to create a series of isogenic cell-based models of drug-resistant melanoma.
The new A375 MEK1 Q56P melanoma model is resistant to BRAF and MEK inhibitors currently used in melanoma treatment, making it an ideal model or the development of novel therapeutics and combination therapies.
A375 drug-resistant melanoma models can be used for screening or study of novel therapeutics in either the traditional 2-D tissue culture format or as 3-D spheroids that more closely mimic the biological tumor micro-environment.
Presenter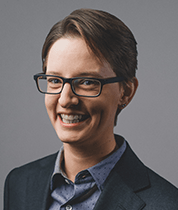 Liz Turner Gillies, PhD
Scientist, ATCC
Dr. Gillies is a scientist in Cell Biology Research and Development at ATCC. She has more than eight years of experience using CRISPR/Cas9 gene-editing technologies to create advanced tissue culture models and systems. In her current role, she leads a small team developing enhanced bioproduction cell lines, including CRISPR/Cas9-engineered cell lines for enhanced viral vaccine production. She received her PhD in Molecular Biophysics and Biochemistry from Yale in 2015.