Improving the Detection of Shiga Toxin-producing Escherichia coli
August 18, 2016, at 12:00 PM ET
Abstract
In the food industry, providing safe products and protecting the company brand is of the utmost importance. To help food manufacturers, processors, and contract testing laboratories ensure the safety of consumable goods, ATCC offers an expanding portfolio of quality control strains to help support the routine verification of raw beef manufacturing trimmings for Shiga toxin-producing Escherichia coli (STEC). In this presentation, we will discuss the growing concern on food-borne illnesses, the importance of quality control strains in food safety, and ATCC STEC reference materials that support this need.
Key Points
Food-borne illnesses are a widespread problem that affect tens of millions of people throughout the United States every year
ATCC acquires, authenticates, and distributes clinically relevant food-borne pathogens that are essential for use as quality controls in food safety programs
Toxigenic, non-toxigenic, and reporter-labeled STEC strains are available from ATCC
Presenters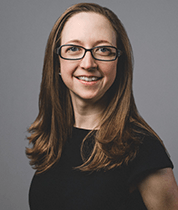 Cara Wilder, PhD, ELS
Senior Scientific Writer, ATCC
Dr. Wilder is a Senior Scientific Writer at ATCC. She has a PhD in Microbiology with background experience working with several pathogenic bacterial species in both in vitro and in vivo environments. Dr. Wilder is the author of numerous publications on varying topics of scientific relevance, including quality control, microbial contamination, assay development, proficiency testing, and multidrug resistance.
Are all STEC strains pathogenic?
No. Although a number of STEC serotypes have been linked to foodborne illness, not all STEC strains are capable of causing disease in humans.
Are the non-toxigenic "Big Six" strains available for world-wide distribution?
Yes, the non-toxigenic "Big Six" strains are available to all countries except those restricted by the U.S. government.
Can the non-toxigenic "Big Six" strains be used as positive controls in the routine screening of STEC strains in meat products, regardless of the detection system used?
Non-toxigenic strains are suitable for assays using antibody-based detection of the O antigen. They are not suitable for molecular tests or antibody tests that target the Shiga toxin.
Did ATCC determine the eae variant subtypes?
No. We only performed a confirmatory PCR test for eae. We have not sequenced the eae gene to determine eae (gamma), eae (beta), eae (theta), eae (epsilon) variants.
Is it possible to determine the serogroup using chromogenic agar, or is this more of a confirmatory assay?
Chromogenic culture medium can be used to aid in the detection and isolation of STEC strains; however, alternative, approved methods for verification of serogroup should be considered.