Discovering ATCC Primary Immune Cells: Model Systems to Study the Immune and Cardiovascular Systems
July 14, 2016, at 12:00 PM ET
Abstract
Hematopoietic stem cells (HSCs) are capable of differentiating into the formed elements of blood: leukocytes, erythrocytes, and thrombocytes. While these distinct cell types display specific immune, transport, and hemostatic phenotypic functions, they are all derived from HSCs. In this webinar we will present data showing that ATCC marrow- and blood-derived primary immune cells, such as bone marrow and cord blood CD34+ cells as well as peripheral blood CD14+ monocytes can be induced to differentiate into various hematopoietic lineages. This webinar will also highlight the use of peripheral blood mononuclear cells to investigate the immunosuppressive capabilities of primary and hTERT-immortalized mesenchymal stem cells in a T-cell proliferation assay.
Key Points
HSCs are a rapidly advancing area of research producing insights into cellular plasticity, immune function, and disease.
Cryopreserved, purified blood cells can be cultured in vitro and induced to differentiate into downstream lineages or used for functional assays.
ATCC offers a variety of blood cell type from multiple tissues that are useful in many applications and research areas.
Presenter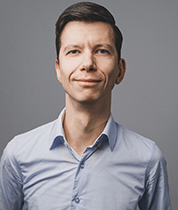 James Clinton, PhD
Lead Scientist, ATCC
James Clinton, PhD, works in new product development with a focus on primary cells and advanced, physiologically relevant culture systems using novel technologies. Previously he worked at University of California, San Diego and the La Jolla Institute for Molecular Medicine. Dr. Clinton attended Washington State University and University of California, San Diego where he studied Neuroscience.