The Untapped Potential of ATCC's Fungal Collection
Poster
Plant Health 2022
Pittsburgh, Pennsylvania, United States
August 09, 2022
Abstract
As a leading developer and supplier of authenticated biological materials, ATCC provides the scientific community with access to an expansive collection of credible microbial strains needed to support research and development applications. ATCC has more than 30,000 fungal strains encompassing more than 1,850 different genera that can be utilized in various industrial applications. We have recently initiated a project to further characterize the utility of our mycology collection, including providing in-depth genome sequencing data. We have more than 1,400 species of plant pathogens encompassing 340 genera, many of which are reference strains that can be used as a standard in pathogenicity research. We also have fungi with reported activities across a wide range of commercially important areas such as biocontrol, bioremediation, biofuel production, biocatalysis, and natural colorants. This poster highlights the diversity and importance of ATCC's fungal collection with special emphasis on biocontrol and provides examples of the utilization of this collection as a valuable resource for the present and future generations of scientists.
Every year, up to 40% of global crop production is lost to various pests, diseases, and weeds. To combat the crop loss, chemical pesticides and fungicides have become an integral part of agriculture. Global trends are shifting toward reducing the use of chemicals pesticides due to environmental and human health issues as well as the emergence of resistant pathogens. In response to these concerns, biocontrol is becoming an important alternative form of pest management. Based on a comprehensive literature search, ATCC's diverse collection of fungi encompasses over 350 strains with potential biocontrol ability against various plant pathogens.
Download the poster to explore the application of ATCC fungal strains in plant disease research and biocontrol
Download
Watch the poster presentation
Presenter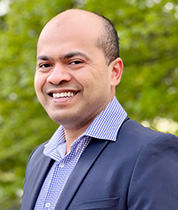 Shahin Ali, PhD
Senior Scientist, Collections, ATCC
Dr. Ali is a Senior Scientist at ATCC with over 13 years of experience in the field of fungal biology and plant-pathogen interactions. Before joining ATCC, Dr. Ali worked for the USDA-ARS at Beltsville Agricultural Research Center, Maryland. He obtained his PhD from University College Dublin, Ireland.