How to Access our Licensing Portal

Thank you for your interest in licensing ATCC materials for commercial use. We have a new licensing portal and have updated our inquiry form.
All users will need to set up a login. Please follow the process referenced in the steps below to set up a new user name and password. This login will be used only for ATCC licensing inquiry applications and is separate from your existing ATCC website profile.
---
Already have a login to the licensing portal?
Access the ATCC Licensing Portal
---
Steps to set up your new login and understand the new account process:
Step 1.
Create a new user name and password by clicking on the "Request Account" button on the Licensing Portal log in page.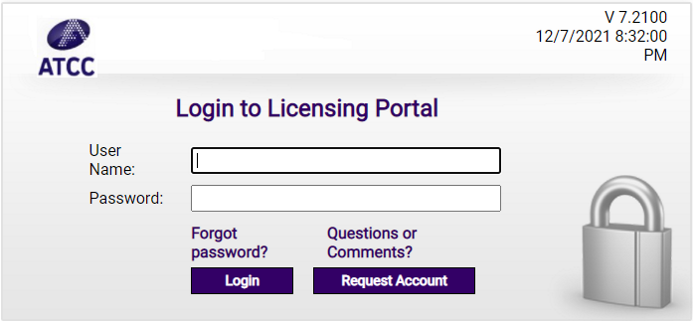 Step 2.
When you select "Request Account," you will be required to enter your organizational email address for two-step verification. If you enter a personal email address, your request will be denied. Check your inbox for a verification email.
Step 3.
Click the verification link in the email and complete the user account information form to create your account.
Step 4.
Be sure to fill in all the required fields. Once complete, click the "Create an Account" button. After you submit your information, you will receive an email that the account request has been sent. Our Licensing team will review your account request and approve or deny your account creation.
Step 5.
Once your portal account has been approved, you will receive an email. Click the link in the email and use your new login to access your account. Once in the Licensing portal, click on "New Request" to submit a new licensing inquiry.
---
Ready to create a profile?
Access the ATCC Licensing Portal
---
For questions or technical difficulties, contact the ATCC Licensing team at [email protected].