Your own cell lines can slow virus production and limit your ability to get your products to market quickly. Intracellular signaling molecules such as STAT1 are activated in response to viral infection, resulting in arrested production of viral particles – an undesirable bottleneck in vaccine production. Using CRISPR/Cas9 gene editing technology, we are able to disrupt the downstream signaling of this immunomodulator by knocking out STAT1 protein expression in cells commonly used for viral production. These cells produce clinical viruses at titers 10-fold higher than the corresponding parental cell line, potentially reducing time and costs associated with virus and viral vaccine production. Our expertise with CRISPR editing technology and dual CRISPR licenses make us the ideal partner for your project. Our project managers will work with you from conception to production of your STAT1 deficient cell lines.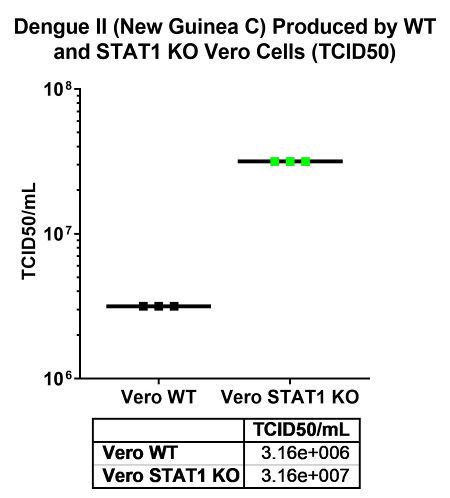 Figure 1. Dengue II New Guinea C virus titer comparison by TCID50 measurement. Vero parental cells and Vero.STAT1 KO cells were seeded and infected with Dengue II New Guinea C virus. Viral supernatants were harvested at day 7 post infection, and then titered by further infecting WT Vero cells in the indicated serial dilutions. The 50% tissue culture infective dose (TCID50) were calculated.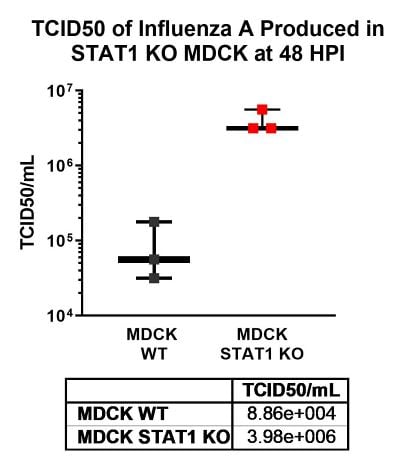 Figure 2: Influenza A (H1N1; ATCC® VR-1736™) produced in STAT1 KO MDCK cells. Cells were infected with Influenza A at an MOI of 0.01 for 48 hours, then calculated TCID50 of Influenza A viral supernatants produced in MDCK.STAT1KO cells at 48 hours post infection.
Watch our webinar to amplify your viral vaccine production
Custom Services Request
Using CRISPR editing technology our experts will create customized STAT1 KO models that meet your virus production needs.
Thank you for contacting us concerning STAT1 knockout services!