cGMP & cGTP Cell Banking and cGMP Biorepository
For nearly a century, ATCC has been regarded as a pioneer in cell banking and storage, using the most reliable and standardized procedures and equipment to manufacture and preserve your critical biomaterials. For every stage of the process - we provide the critical starting materials for the development and commercialization of pharmaceuticals and biologics. As the trusted global source for cell authentication and uncompromised quality, we set the benchmark for cells used in protein and viral manufacturing and testing applications.
We are now approved to provide these services under current Good Manufacturing Practices and Good Tissue Practices (cGMP/cGTP). ATCC supports multiple stages of the cell banking process, from initial development to master/working cell bank production runs in efforts to streamline and expedite your timelines. In tandem, our cGMP biorepository experts can characterize, package, store, and distribute your biological materials to ensure the security and integrity of your cell banks.
Watch the video to see the facility!
By trusting ATCC, you can avoid time and labor intensive in-house production and eliminate associated risks and costs. Our longevity in the industry and reputation for stringent quality controls gives you the confidence that your drug development efforts will be fully supported.
cGMP AND cGTP CELL BANKING
21 CFR 600, 610, Good Manufacturing Practices (cGMP)
21 CFR Part 1271, Good Tissue Practices (cGTP)
Mammalian and stem cells
Primary cell derivation and expansion
Over 5,000 cell lines available from ATCC's fully authenticated collection -or- use your own proprietary cells
Custom-built, designated cell processing suites
Healthy cells and cells derived from diseased tissues
Master and working cell banks (MCB and WCB)
cGMP BIOREPOSITORY
ISO 9001:2008, cGMP-compliant LN₂, -80°C, -20°C, and 2-8°C storage available
Cell, microbe, protein, and nucleic acid storage options
Safe segregation of biological materials
Cold-chain support and management
On-call, after-hours personnel; 24/7 temperature monitoring
Direct quality oversight of all unit entry and retrieval activities
cGMP and cGTP Cell Banking Services; cGMP Biorepository Services
Contact us using the form below for more information on our cGMP and cGTP Cell Banking Services and cGMP Biorepository Services, or to let us know that you are ready to start your project.
Thank you for your request. Our team will contact you soon!
Explore other custom services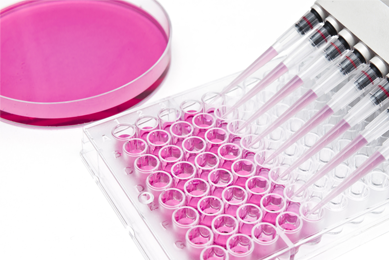 We have been the authority on cell and microbial banking for nearly 100 years. Our laboratory and storage facilities are first-in-class for the large-capacity storage of cell lines, microorganisms, and other biological materials. We can support any cell banking need and will work with you at all stages of the cell bank development process from the initiation of your project to the large-scale production of your cells and microbes.
More