Leading ATCC product development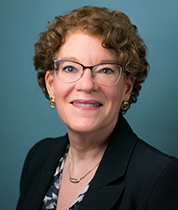 Mindy Goldsborough, PhD
Chief Scientific Officer
"Science means building on our knowledge. It's constantly evolving. With each new experiment, with each new product we develop, we learn more about improving health, life, and the environment. It's precisely because each research endeavor is a building block toward our greater understanding that we, at ATCC, continue to challenge scientists to use only authenticated biomaterials. It's the very best way to safeguard the reproducibility—and ultimate value—of their work.
Role at ATCC
With more than 30 years of product and technology development experience, Mindy oversees ATCC's cell and microbiology product development teams. As a member of executive leadership, she also applies her deep expertise, working cross-functionally, to develop and implement scientific strategies designed to move ATCC toward its long-term organizational goals.
Experience
Before joining ATCC, Mindy was director of Research and Development for BD Biosciences' Advanced Bioprocessing group. She also served in senior R&D roles within BD Biosciences' Bioimaging business (formerly Atto Biosciences) and Life Technologies, where she led R&D efforts in DNA-based diagnostics, stem cell biology, forensics, and nucleic acid purification. Several products that Mindy helped develop remain market standards today.
Mindy earned her doctorate in genetics from George Washington University. She completed her dissertation research and postdoctoral work at the National Institutes of Health, National Cancer Institute.