Leading ATCC global operations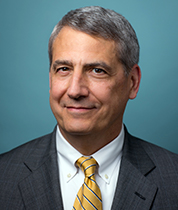 James J. Kramer, PhD
Vice President, Operations
"Everyone has a passion. Mine is understanding the mechanisms of biochemical reactions and, most specifically, their relationship to human health. At ATCC, I channel that interest into my quality control work by assuring―through continuous process improvement―the reliability, reproducibility, and overall high quality of the products we deliver. Transforming scientific concepts into quality products that address specific market needs—so our customers have the right products, at the right time, and at the right price—is critical to securing the future of science."
Role at ATCC
As vice president of operations, Jim oversees worldwide bioproduction and quality control, manufacturing technical transfer, supply chain, facilities, and distribution of ATCC's biological products.
Experience
Before joining ATCC, he was vice president at several global bioscience, medical device, and biopharmaceutical organizations, including Immucor, Inc., BioReliance, Talecris Biotherapeutics, Inc., and Serologicals Corporation. He also held various positions at Ortho Clinical Diagnostics, a Johnson & Johnson company. He has held responsibilities for multiple manufacturing sites in the United States, Canada, and the United Kingdom.
Jim earned his doctorate in biochemistry from the University of Medicine and Dentistry of New Jersey. He completed his postdoctoral training in protein biochemistry at the University of North Carolina at Chapel Hill.